Nuno Tiago Pinto e Alexandre Azevedo
SPECIAL REPORT
They fought in Iraq and Afghanistan. After being honorably discharged they found out that they were not citizens as they thought they were: they were convicted of aggravated felonies and were deported. Now they struggle to come back alive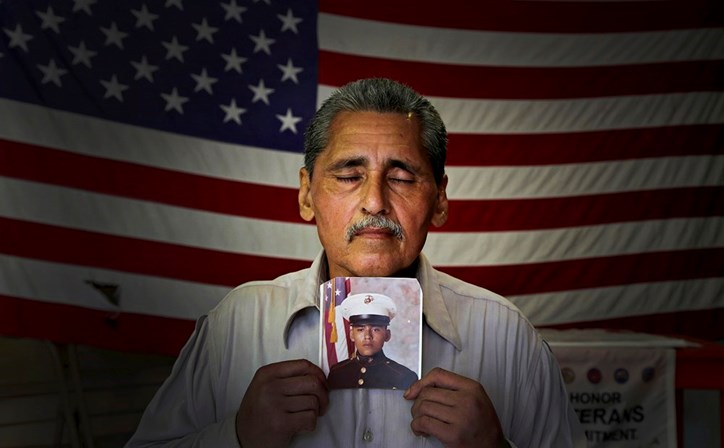 It's been 16 years since Hector Barajas left the American military. Even so, the act of wearing the blue uniform and putting on the bordeaux beret of the paratroopers continues to be, for him, a ritual. A methodical sequence of gestures so often repeated. He begins by carefully aligning the badge with his last name before attaching it to the right side of the coat lapel. He does the same with the armed forces insignias, which he places on the shoulders. He proceeds with the medals earned during his seven years of active service: four in the army, three in paratroopers. He places them on the left side and gives them a last once-over with a soft cloth to make sure they are shiny and unmarked, while hanging on the left side of his chest. When everything is ready, he straightens the tie and removes the coat - which bears the marks of time - from the hanger ina recess in the wall. "I love the United States, I'm proud to wear this uniform," he says to SÁBADO while dressing it carefully. 
He performs this ritual at least once a week, every Sunday when he leaves the two-story building where he lives in the Otay Centenario neighborhood in the eastern zone of Tijuana and crosses the city to reach the wall that separates  Mexico from the United States. It is there that, together with other veterans, some of them dressed in their former uniforms, he tries to draw attention to a reality that few know about: the deportation of former US military personnel for crimes committed after returning to civilian life. 
No one knows exactly how many there are. Estimates range from a few hundred to a few thousand. "The immigration system does not register whether or not someone is a veteran when they deport them," says Nathan Fletcher, a former US Marine, an ex-California congressman and current leader of the Honorably Discharged, Dishonorably Deported coalition. Established in September 2016, the organization's goal is to prevent military veterans who are not US citizens from being deported and to help those who already were to return to the country they consider their home.
Hector Barajas is one of them. Born in March, 1977, in Fresnillo, the second largest city in the state of Zacatecas, Mexico, he immigrated to the United States when he was 7 years old. The family then settled, illegally, in Compton, California. A decade passed until they were able to obtain a residence permit. By the end of high school, at age of 18, Hector enlisted in the US Army to escape the gangs and drugs that had proliferated throughout the city. It was with pride that, in a military ceremony, he raised his right hand and took the oath which, he thought, automatically conferred to him the American citizenship. 
"I, Hector Barajas Varela, do solemnly swear that I will support and defend the Constitution of the United States against all enemies, foreign and domestic; that I will bear true faith and allegiance to the same; and that I will obey the orders of the President of the United States and the orders of the officers appointed over me, according to regulations and the Uniform Code of Military Justice. So help me God."
After four years of honorable service, he volunteered again, this time for the paratroopers. "I joined the 82nd Airborne Division, and although I did not engaged into combat I served in wartime after 9/11," he tells SÁBADO at the Deported Veterans Support House, a non-profit organization that he created, In Tijuana, to support other former military personnel in the same situation. 
He was honorably discharged in late 2001, months after the terrorist attacks on New York and Washington D.C. Back in Los Angeles he had alcohol and drug problems and was arrested after being involved in a shooting incident. There were no injuries, but Hector pleaded guilty of firing a gun against a car and was sentenced to two years in prison. That was the moment when he found out that, even though he had vowed to defend the United States and obey the President's command, he was not an American citizen - he was merely a legal resident. And as such, he was taken to an immigration judge who expelled him from the country for 20 years. 
On the very same day that he was returned to Mexico he decided to return to the country where he had lived for two decades. He settled in California and managed to be there, illegally, for five years. "I was deported the second time in 2009. I was driving and I hit the back of another car. A police patrol appeared and they checked my license plate. Because I had a fine to pay they took me to the police station. And after taking my fingerprints they realized that I had been deported," he says. He spent the following months in a detention center until an immigration judge decided to deport him for life. He left behind his job, a wife and a little daughter. "It was the hardest thing. All the people that you will talk to will say that they want to go back, not because of the economic conditions that are important, but to be with their family," he explained. 
Left in Tijuana, away from his family, Hector spent months on the streets, lost in methamphetamine consumption. He got help, he healed, and knowing that he was not the only army veteran to have been deported, he opened the Deported Veterans Support House – known as The Bunker - in the apartment where he lived. "Initially, it was just me saying: 'If you're deported, come and stay with me.' 'I didn't think about it very much. It was a shelter. But over the years we realized that veterans have different needs and we became more a resource center where we provide legal advice, contacts with lawyers, etc. But our doors are always open. If someone gets deported he has a place to stay with us. Home away from home, "he explains.

Thanks to The Bunker, Hector began to gradually contact other veterans. In Tijuana alone, he says, there are about 60. In his database he more than 300 names from 34 countries. The younger ones, like Mauricio Hernandez or Daniel Torres, fought in Afghanistan or Iraq. Others, like Jesus Castillo or Andrew De Léon, served during the Vietnam. Their stories, heard by SÁBADO, all fit in the findings of an American Civil Liberties Union (ACLU) of California report, which is based on interviews with 59 veterans from 22 countries and was published in the summer of 2016. Among the findings were that:
-          Most of them lived in the United States for decades; they had already lost their ties to the nations where they were born;
-          Nearly all deported veterans have left behind families, including children;
-          In many cases they committed minor crimes after facing difficulties in adjusting to civilian life;
-          The federal government failed to ensure that service members were naturalized, as they were entitled, during military careers or shortly thereafter;
-          The government failure to provide clear and accurate information about naturalization resulted in many veterans believing their military service automatically made them U.S. citizens;
-          Deportations have denied veterans comprehensive medical care in the United States, leaving many to die or suffer without treatment. Many suffer from Post-Traumatic Stress and others end up dying of other diseases for lack of treatment;
-          Veterans deported to Mexico or Central America face serious threats from gangs and drug cartels that seek to recruit them because of their military training and threaten them and their families with death if they refuse. 


From the Afghan trenches to the streets of Tijuana
Mauricio Hernandez, 34, has one of the most dramatic stories. Born in Guadalajara, Mexico, he was sent by his mother to San Diego, California, when he was six years old. At the end of high school, at age 19, he enlisted in the Army. "I was young, I saw a lot of movies and I wanted to see if the real-life war was the same as in the movies," he tells SÁBADO, sitting in the living room, which is also the kitchen, of the small house where he lives with his wife and one year old daughter, in a poor suburb on the outskirts of Tijuana.

He had to wait four years for his unit to be sent to Afghanistan. He then received advice that he took to heart: "During a briefing, a general told us to look to our left and then to our right and to thank the man who was sitting there because he probably would not be there when we returned. He said that we would have a better chance of functioning as a combat soldier and perhaps to come back home." Mauricio was an infantryman, and also a mortar operator. During that one year tour, he participated in more than 160 missions, for which he received several decorations. "It was probably more, I stopped counting. Sometimes we did not sleep for days," he says. 
When he departed, Mauricio left his family behind. "I had a wife and 2.5 children - because she was pregnant with our third child," he recalls. "But as the old saying goes,'out of sight, out of mind'. I wasn't there. My wife started seeing all the navy personnel that were around. She had my son and probably two months later she was pregnant from some guy in the navy. I had nobody when I came home. She took off with my kids. I came back to nothing."

He then volunteered for a new assignment, now in Iraq, even though he already faced psychological problems from what he had seen and done in war. Mauricio doesn't like to talk about it, but he clearly remembers when things got worse. He was on leave in San Diego, to take care of some problems related with his children, when two men tried to rob him. "It was dark, they approached me. One pulled out a kitchen knife and the other one had a golf cub, and they told me to give them my money or they were going to kill me. I looked at them and smiled and laughed a little bit and told them 'I want to see'", he says. "We started to fight, they commenced to stab me. They ran, I chased them, ended up getting back to my car and made my way to the hospital stabbed multiple times with both lungs collapsed. I ended up in the Intensive Care Unit, in a coma for a week," he continues. When he recovered consciousness Mauricio was told that he was considered AWOL (Absent Without Official License) by the Army. He reported the situation to his superiors, but five months later, when he thought that he had healed, the military doctors decided that he was not physically fit for combat duty. "They told me that I had to get out of the Army or reclassify to a non-combat MOS [Millitary Occupation Code], which is basically a job," he says.
He left. He never cared about checking his immigration status because he thought he was a citizen. He had other, more serious, concerns. "My everyday struggles were 'ok, how am I gonna get through this day without shooting myself in the fucking head. I did not like what I saw, I was having a hard time," he confesses. Four months after leaving the Army in 2006, Mauricio was arrested for a misdemeanor possession of a firearm and a felony charge for possession of half a gram of methamphetamine. He was sentenced to six months in prison and deportation to Mexico. But when he was released, they let him stay in the United States. "I was convinced that I was a citizen," he says.
Three years later he was detained again on drug and weapons charges.In 2010, when he was about to be released, he was visited in jail by immigration officials who told him that he had somehow escaped deportation in 2006. "That half a gram of methamphetamines was my deportation charge". He was sent to Tijuana and settled in Rosarito, a town on the outskirts of the border town. "My family did not know where I was at, and in 30 days I managed to get into a lot of things with not very nice people because at the time I had some issues with eye contact. I could not make eye contact without feeling hostile," he recalls. Mauricio ended up trying to illegally enter the United States but was caught and sentenced to 37 months in prison. "When I was finally deported in 2012 I decided to stay here in Mexico and decided that if I was ever go back it would be legally".
These days, Mauricio continues to deal with Post-Traumatic Stress Disorder. He has good days and bad ones. "I lock myself in the house for long periods of time because I can't associate with other people. I have nervous breakdowns. I want to do bad things. I want to lash out. I have a lot of anger. I need professional help," he says. "And that didn't appear out of the blue. I did things and I saw things for the benefit and gain of the United States and freedom of everyone that lives there. They have the freedom to deport me because people like me fight for them. It's not free. If people like me weren't around, if they didn't exist, if they didn't have that massive army of people willing to die for the US, in the blink of an eye they would have so many fucking enemies at their doorsteps with AK47's", Mauricio argues.
He then continues: "I was born in Mexico, but I don't even know the Mexican national anthem. I don't know if they have something similar to a pledge of allegiance. I was brought up saying the pledge of allegiance every day in elementary school. 'I pledge allegiance to the flag of the USA'. I think I lived up to that allegiance. My record speaks for itself. I showed true allegiance. I went. Where many people don't want to go. And I was there. I wanted to go do things that other people were crying, shooting themselves in the foot wanting to go home, to stay away from. That should count for something. Losing yourself like that. You loose yourself you loose your soul. You become a different person. But in the end I do not expect anyone to feel grateful. I just feel that it would be fair that the country I love, that many deported veterans love and for which they have sacrificed for, will love us back."
The leader of the Honorably Discharged, Dishonorably Deported organization, Nathan Fletcher, agrees. "This is a problem at the heart of what we are as a country. From the beginning that we had people wanting to come to America and being a part of American society. There was always a special place for those who are willing to give their lives for the United States The least we can do is give them citizenship. We owe them more than that. And the fact that we fail to keep our promise is unfair," he tells SÁBADO. The former Marine gives an example of how the US treats its soldiers: "If there were 300 Marines detained in another country, we would stop the earth's rotation to bring them back. One of our mantras is that we leave no man behind. In this case, we left hundreds behind."
"It's crazy that people who served and risked their lives for America are being deported", says Margaret Stock, a former US Army lieutenant colonel. Currently a lawyer specialized in immigration and homeland security affairs, she believes that the greatest challenge of those who are battling for legal changes on the matter is to bring it to the public attention. "The general public doesn't know this because for most media outlets it's not a subject," she says in a telephone interview from his office in Alaska.
But it is not only the civilian population that doesn't know that veterans are being deported. Nathan Fletcher, himself a former Marine, who fought in Iraq and was stationed in Africa, the Middle East and South America, never imagined that this problem existed. "I spent many years working on veterans' affairs and legislation and when the ACLU contacted me I told them that this was not true and that the military were getting citizenship when they signed up. But I was wrong. And most people are not aware of this. But when they do, they say we have to solve it."


Deported for murder but also for missing classes
For a foreigner to obtain US citizenship he has to fulfill a series of requirements: to be over 18, to be a legal resident and to live in the US for at least five years, to demonstrate good moral character and he cannot have a criminal record. However, for those who enlist in the Armed Forces, everything is simpler: in peacetime, a legal resident can naturalize if he serves honorably for a year; In time of war, he may be naturalized with a day of service.
According to the ACLU report, the problem is that, at least until 2004, "the military gave incorrect information or no information at all to many service members, leading many to believe they were already citizens, that they became citizens when they took the military oath, or that they did not need to apply for citizenship to be conferred ". Margaret Stock confirms: "From what clients tell me, in the past they did not receive the information. It depended upon the recruiter, the commander and the person himself. That is no longer the case today. They have to complete a form and the contracts tell them specifically that they have to apply."
The crimes that led them to deportation also vary. "Technically immigration says we have committed a serious crime, but I have seen veterans being deported for passing a bad check or for DUI", says Hector Barajas. Margaret Stock adds: "It can be a serious matter, like homicide, but also minor crimes such as marijuana use. I have a case of a veteran facing deportation because he missed classes, which was a requirement to keep his resident status". 
Prior to 1996, a US Army veteran was rarely deported. Only those who committed aggravated felonies, such as homicide, drug or weapons trafficking were forced to leave the country. However, following the Oklahoma City bombing in 1995, Congress passed new laws that hardened the fight against illegal immigration. According to a Human Rights Watch report, the amendments added 21 types of crimes to the definition of "aggravated felony," and lowered the threshold for many crimes to qualify as aggravated felonies from five to one year sentences. Today, the definition of aggravated felony includes more than 30 crimes including simple theft, filling a false tax return, failing to appear in court or perjury. "It started with Bill Clinton and it didn't stop growing. Recently the Barack Obama's administration was deporting as many people as possible, and with Donald Trump it is expected that the numbers will continue to rise," says Margaret Stock. 
The US Department of Defense didn't answered SÁBADO's requests for comment, and specifically to know if there are any records on the number of veterans that were already expelled from the country and about the official position of the government on this matter. Sarah Rodriguez, a spokesperson for the U.S. Immigration and Customs Enforcement (ICE), told SABADO that the organization "does not track the number of veterans removed" and sent a written statement about the subject:
"ICE respects the service and sacrifice of those in military service, and is very deliberate in its review of cases involving veterans.  Any action taken by ICE that may result in the removal of an individual with military service must be authorized by the senior leadership in a field office, following an evaluation by local counsel. ICE exercises prosecutorial discretion for members of the armed forces who have honorably served our country on a case-by-case basis when appropriate. ICE specifically identifies service in the U.S. military as a positive factor that should be considered along with other factors in the totality of the circumstances when deciding whether or not prosecutorial discretion should be exercised. Still, applicable law requires ICE to mandatorily detain and process for removal individuals who have been convicted of aggravated felonies as defined under the Immigration and Nationality Act."
However, for Nathan Fletcher and Margaret Stock the central question is not about giving military veterans a different status. "If they commit any crimes, they must comply with their sentences. But Americans are not deported, that's the question: they're not supposed to be just residents, they're supposed to be citizens," argues Nathan Fletcher. "It's important to tell people that the government has deported veterans and that this is wrong. I hope that they write to their congressmen and senators so that this can change", adds Margaret Stock. 
In fact, immigrants are an important part of US military history. "They have played an important role since 1775," says Margaret Stock. They served in all wars - and in significant numbers. According to the United States Immigration and Citizenship Service (USCIS) statistics, in the mid-nineteenth century they made up half the Armed Forces. In World War I, half a million soldiers from 46 countries fought under the American flag. The same happened in World War II, in Vietnam, in Korea and during Operation Desert Storm. In all, 70,000 foreigners enlisted between 1999 and 2008. In 2012 there were 24,000 foreigners in the various Armed Forces.
Jesus Castillo did not engage in combat. Although he enlisted in the Marines during the Vietnam War, he says that he was lucky: "God was good to me. The war ended and I stayed in the United States." In 1959, when he was 4, his family moved from Tijuana to San Diego and lived there ever since. In 1974, while he was stationed at Camp Garcia in Puerto Rico he fell off the back of a truck, seriously injured his head and stayed several weeks in a coma. When his father died he says that he started to do "bad things," getting into "fighting" and messing with people. He was arrested several times for drug possession and deported several times: in 1977, 1995, 1997, 1998 and the last timein 2003. "It never occurred to me that I could be expelled from the country. I thought I was fine. I gave my word that I would give my life for them. That I would put my life on the line. I didn't knowif they would send me to war, I was there to do what they told me, to answer the President's call. I was a Marine and I feel that I will always be a Marine", he tells SÁBADO at the Bunker, sitting along with Hector Barajas.
He as lived in Tijuana for 14 years. But his whole family ison the other side of the border. "I have no one here. The only one who comes to visit me is my mother. My son works on the other side and doesn't like to come here because the police stop the cars with American license plates to get people's money. I don't make them come here", Jesus says.


Foreigners but only until they die
At The Bunker Jesus found the support he never had since deportation. "I was cleaning the house when I saw on TV that they had had an event with deported veterans. I just picked up the end but it caught my attention. I called several people until I got his [Hector] number. He asked me if I had been in the Army and if I had my papers. I told him yes and he asked me to come here that same day", he recalls. Since then, like many others, he tries to get back to the US. "I have grandchildren I have never seen, a family I do not know. I would like to see my friends before they die, they are all dying. My mother is very old and she would like to see me at home. She is a beautiful lady, the only one who helps me. If she goes, they will bury her there, they won't bring her here", he moans with tearful eyes. "My brother died. He was also a Marine. He used to take care of me and I couldn't go to his funeral... it's sad."
Andrew De Leon also wants to go home. At age 73, he has lived in Tijuana since 2010, when he was deported for drug possession. "I don't have anyone here, they're all in California," he says. His family immigrated to Texas in January 1955. Two years later, they moved to the town of Madera, in the San Joaquim Valley, California. He has lived there since then, except for the two and a half years spent in prison and his three years commission in the Army. The cap he wears with pride reveals his past. "I served during the Vietnam War but I ended up not going there. They have only sent me to West Germany for six months, but there was war at the time," he says.
He spent his first five months in Tijuana living on the streets. Since then Andrew has survived thanks to the money sent by his family, especially her sister. "I owe her more than $15,000 in food and rent. She tells me not to worry, but I don't feel good about it", he confesses. Like the other deported veterans, he hopes to be able to return to the United States. "It's my home. I'm here because I had no choice. I wanted to apply for my benefits, retirement and medical care, which I'm entitled to because I'm an ex-military. But in order to receive them I have to live on the American side. I'm getting old, I can die at any time. I am type II diabetic and I have hepatitis C, "he says with a strained voice.
That's one of the ironies of the current situation. "Deported veterans continue to be eligible for social benefits. They can receive a pension and if they die they can return home and be buried with military honors", Hector Barajas explains. "Now, they can only come back if they are dead," Margaret Stock confirms. Mauricio Hernandez is more expressive. "When I die, I can go home. My mom can ask for my body, they will give me my citizenship to bring me home and they will bury me with a 21 gun salute. They will put an American flag in my mum's hands folded and they will tell her 'thank you for your sacrifice and for giving us your son.' The U.S. will tell her that and they will bury me with the honors that I deserve as a soldier. But why do they have to wait until I'm dead?" he asks.


A flash of hope
Last year the deported veterans obtained a victory that gave them renewed hope that their situation might change. All thanks to Daniel Torres who, in April 2016, became the first one to obtain American citizenship under his former military status. However, his situation is unique, compared with other deported veterans: unlike them, he wasn't convicted of any crime.
Born on December 5 1985, in Tijuana, he immigrated with his family to the United States in 1999. Daniel was 14 years old. They crossed the border with tourism visas and then overstayed. His father was an electromechanical engineer. His mother worked at home. They settled in Salt Lake City, Utah. "Once I turned 18, my [student] visa was no longer valid. I couldn't get a job, I couldn't do anything so I started working under table", he tells SÁBADO in Tijuana, a few kilometers from the border with the United States. He was a waiter, a carrier, among several other things. It wasn't until he was 21 years old that he decided to enlist in the US Marines. "Unfortunately, in order to enlist I had to lie. I lied about my citizenship status. I enlisted as an American citizen and at the time I was undocumented", he says. 
Daniel's recruiter asked him several documents. Some of them he had: a social security number, a high school diploma and a clean criminal record. When the person in charge asked for a birth certificate, Daniel Torres replied:
- "I'm from Mexico."
- "Then come back on Monday."
He did. And he brought a fake birth certificate downloaded from the Internet. He thought it was worth the risk. "I didn't want to be another Mexican taking someone else's job. I wanted to be able to say that I had done something for the country, wanted to be able to do something that I was proud of. I wasn't going really anywhere with my life and I saw the Military service as a way of finding myself and doing something with my life", he says.
After two years in the military, he was deployed to Iraq where he spent seven months, between 2009 and 2010, in Anbar province on the outskirts of Fallujah with the 1st Battalion, 7th Marine Regiment. There he had all sorts of tasks. "Our mission was to maintain security; we did patrols on foot and in vehicles, gun searches, vehicle control and security at the base. It was like a police force in Iraq", he tells SÁBADO. "Our company's job was to transition operations to the Iraqi police and to transition to a safe withdrawal of our troops", he explains.
At the end of his tour, Daniel returned home with no major problems, except for a permanent tinnitus in his ear due to the regular exposure to explosions and shots, whether in training or on the ground. He then volunteered for a one-year deployment, this time in Afghanistan. "I was a good Marine, I did always well with my job. I enjoyed military life, it was an easy job and for me that was a way to progress in my career", Daniel says.
While waiting for his new deployment to the Middle East Daniel was entitled to a leave. It was then that he lost his wallet, with all the documents. "In the process of trying to get new ID's it came to light that I wasn't an American citizen. I was detained sent back to my parent unit, wasn't deployed to Afghanistan. Instead I was discharged". He had a good record and his commander didn't want to discharge him. "Unfortunately because I lied during my enlistment it is fraudulent enlistment and I was subject to four years in prison", he recalls. Daniel also says that at the time his superiors didn't want to ask for his citizenship because then they would have to explain how he had been accepted in the first place. "They decided to discharge me and let me handle the matter as a civilian", he says.
He was in an awkward situation. He was an Iraqi war veteran, where he risked his life for the United States, but also an undocumented in his own country. Daniel'snew risk was of being arrested and expelled at any time. Unable to find a job, he traveled to France and tried to join the French Foreign Legion. But he was disqualified due to his hearing loss.
It was then that he returned to Tijuana freely in 2011. At the time, as all others before him, Daniel thought he was unique: a veteran of the US military who couldn't get back to the country for which he had fought for. Two years ago an uncle told him about The Bunker – the Deported Veteran's Support House – and the other veterans trying to get back. It was there, in the organization founded by Hector Barajas that he discovered that he was one of a few hundred men who, for various reasons, were eventually expelled from the United States despite being willing to give their lives for the country. It was also there that he contacted the ACLU's lawyers. "We started raising awareness about the issue, talking with the media. The ACLU heard about my case and they decided to represent me pro bono in USCIS. And the ACLU got me my citizenship. We applied under the basis of military service. There's a law that states that if you serve three years honorably in a time of war and if you have combat deployment you're entitled to citizenship. Under that clause I was sworn on April 21st of this year [2016]", he says.
In Tijuana, he engaged in law school. Currently in his last year of college he wants to help other deported veterans fighting to come back to the U.S. Now, as an American citizen, he says that he has a strange feeling again – but this time a good one. "One day I was undocumented and I couldn't go back, the other I was already a citizen, I took an oath. Well, actually I did it a long time ago, when I signed up. This was the second time", he laughs.
Hector Barajas hopes to be the next one to get it. He applied three years ago and on September 30th he crossed for the first time what he calls the "pearly gates" for a citizenship interview. He has been waiting for a response since then. But it will have to arrive no later than March 17. If Hector manages to gets it, he will become the first veteran to be granted citizenship after being deported for a crime he had committed. He wants to cross the border bearing that same uniform he wears every Sunday. And Hector already knows exactly what will be the first thing he'll do when he returns: "I'm going to Disneyland [laughs.] I actually am. I would love to take my daughter to Disneyland. The first thing that I will do is go visit my daughter. I can picture it. It's going to be a beautiful thing."
SÁBADO

 travelled to the U.S. with the support of the Luso-American Foundation for Development 
Do you like this post?